This weekend will be interesting to say the least. Terrifying and terrible, but interesting. The Proud Boys are coming back to Portland tomorrow.
Enrique Tarrio, the current leader of the "Western Chauvinist" group better known as the Proud Boys, has made many threatening remarks on social media about their planned event in Portland tomorrow, September 26, 2020. They're coming to seek revenge for their Patriot Prayer brother Aaron "Jay" Danielson, murdered in Portland on August 29th, as I covered in Episode 2 of The Daily Rose earlier this month.
Patriot Prayer, another alt-right group, which I thought was an alternate name of Proud Boys until doing research for this podcast, will also be in attendance as well as a group called Patriot Coalition of Oregon. I just heard of this group in the past few days when their group chat messages were leaked and reported on by Bellingcat and The Guardian. Then there is a group called "1776 2.0," not to mention the "Three Percenters," QAnon, Boogaloo Bois, The Oath Keepers, and so many violent and armed White Supremacist groups that I can't keep track.
(As an aside, yesterday I pronounced Boogaloo Bois (B O I S) as if it was a French word yesterday (bois, meaning wood) when it's actually a purposeful misspelling internet slang pronounced like "boy," so apologies for my lack of internet slang savvy!)
These militia groups are looking for "Civil War 2: Electric Boogaloo," and they believe their enemies are anti-fascists (which make them fascists?), Black Lives Matter protesters (which make them racist?), and pretty much any "snowflake" on the left of the political spectrum.
Leaked screenshots show how they are planning murder and how to get away with it, plus they got some more tips from Clackamas County Deputy Mark Nikolai when they interfered with fire evacuations, as I covered in my third podcast episode called "Armed Militia Checkpoints."
A man named Mark Melchi is an active member of this Patriot Coalition of Oregon and also the creator of 1776 2.0, which is a self-described "Patriotic Action Group made up of mostly Combat Veterans" who "hate safe spaces, the word TRIGGERED, cancel culture and Liberal hatred toward this country." Their website has a large picture of a scantily clad woman in a sexy Revolutionary War outfit, complete with tricorn hat and rifle. Real winners these folks…
"Come ready to fight" they tell their followers, and their language in these messages suggests they are looking to kill. For example, Bellingcat reports shows the message Melchi wrote saying: "people have officially died from these Antifa Fires…I'd shoot them on site. Let the fire cover up their bodies."
Another user who goes by "Dub" responds: "Yes sir if I see them they are getting dropped where they stand. No more fucking around with these assholes."
Melchi called it "Literally trial by fire" and he decided that "their [sic] is no other way than the death penalty." …apparently to be carried out by them.
They have planned for and executed violence in the past, and I have no doubt they will again tomorrow. Melchi advises "tactical ambushes at night" and tells other members to ignore weapon statues and laws, saying, "I saw someone say bats, mace, and stun guns are illegal downtown. If you're going to play by the books tomorrow night, we already lost. We are here to make a change, laws will be broken, people will get hurt… It's lawlessness downtown, and people need to be prepared for bad things," The Guardian reports.
A Patriot Coalition user called Dub said, "The only real way to end it is start shooting everyone of them. Fists and pepper spray are fun but don't get the job done. I think sooner or later it's coming. Our governor and the coward mayor of Portland will let it go on till November. If we don't take care of it ourselves." Some of the leaked chats fantasize about political assassinations, particularly Ted Wheeler, who has been heavily criticized by both sides for his utter incompetence and inaction.
In the wake of Danielson's murder, another Patriot Coalition user called Punisher95 said "…if I see people wearing black lives matter shirts or masks there instantly targeted in my book…I have no sympathy for them at all whatsoever."
Stewart Rhodes of the Oath Keepers tweeted: "The first shot has been fired brother. Civil war is here, right now. We'll give Trump one last chance to declare this a Marxist insurrection & suppress it as his duty demands. If he fails to do HIS duty, we will do OURS." —this tweet got him banned from Twitter.
Rational, peaceful, intelligent people don't want them around. Not on our social networks (except apparently Facebook who has protected them until recently) and not in our cities. The City of Portland denied their application for a protest permit due to the coronavirus due to the numbers they were expecting. The Proud Boys vowed to come anyway and plan to be at Delta Park in far North Portland, which I just read on Twitter while preparing for this episode has been fenced off.
The Daily Kos reported that Portland Mayor Ted Wheeler did officially denounce the Proud Boys this week, saying "While espousing patriotism and a commitment to peaceful protest, some in these groups and many who associate with them have a record of racism, intolerance, and hate. Those are not Portland values, and they are not welcome.
The last time these white nationalists were in Portland en masse at the end of August, they sprayed bear mace in the faces of protesters and shot them with marbles out of paintball guns. Four victims of their violence are suing three Proud Boys for their violent, predatory behavior for $1.2million. Dozens of people were hurt badly enough to go to the emergency room, which was filled with so many people victimized by these bullies, one plaintiff couldn't be seen for over an hour. Proud Boy Alan Swinney had sprayed a photojournalist with bear mace directly in her face, and some of it ran down inside her ear.
As Willamette Week reports, she said, "The sensation of the bear mace down my ear was so intolerable that I tore off all of my gear…As soon as I took off my gas mask, bear mace was gushing out of my hair and down my face. My arms were bathed, my bra was soaked. I was loaded into an ambulance and I was just howling. It wasn't even a pain that could be solved by crying…They came to hurt people. And they did."
Gov. Kate Brown denounced the groups and has declared a State of Emergency in preparation of the violence they've promised as well as their repeated violent actions against anti-fascist and BLM protesters. Sadly, this has come with State and Federal troops to be called in for crowd control, which means they will be using CS gas for "crowd control," but if the past is any indication, the gas will only be used on the left, not on the Proud Boys. Even some members of the Portland Police Bureau are being deputized as Federal Agents, so the Proud Boys will have their buddies there to protect them as usual.
These people are willing to kill. In fact, I should say they are wanting to kill. Their words are filled with such hate, and the only thing they say that's holding them back is that they're waiting for a "presidential go to start open firing," as a user known as "Paige" said.
Trump has empowered these paramilitary militias and white supremacy overall, calling for his Trump MAGA Army, and they're answering his call…simply awaiting a clear order to start shooting.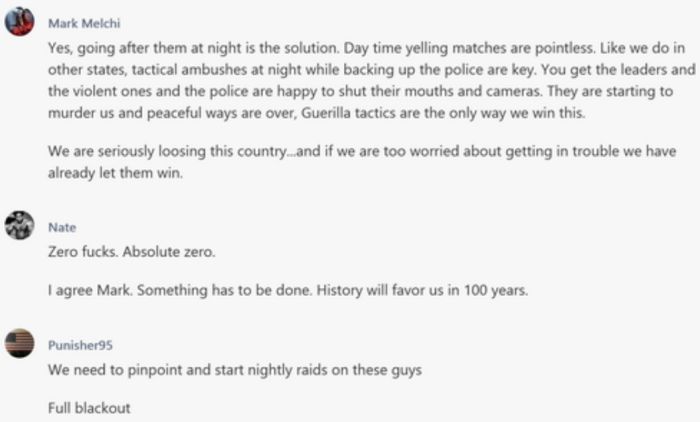 SOURCES