The news is getting to me, and I have felt a range of emotions from anger to depression to helplessness to rage to utter futility. I've shed many tears over the past week, watching the police respond to protests against police brutality with more police brutality, while the world watches in utter horror.
Trump threatened violence and then a police state through military action, then he gassed protesters to clear a path for a photo op. Police are driving into protesters. Gassing them directly in the face. Shooting them with rubber bullets and tear gas canisters at point-blank range, some blinded for life. Tasing people in their car. Attacking journalists. They're ganging up on people down, three on one, beating them with clubs. Last night, police trapped thousands of protesters on the Brooklyn Bridge.
Yet White Supremacists can show up with bats, golf clubs, and batons and beat up a reporter, and the police do nothing. Just like when they stood fully armed with assault rifles to protest the lockdown and being forced to wear masks in April. Or, you know, bringing a rocket launcher to Subway…where were the National Guard, rubber bullets, curfews, and tear gas then?
The only reason this man, who tried to shoot an arrow into a crowd of protesters, is facing charges is because it was caught on video. Just like Chauvin. He wouldn't be in custody, let alone facing 3rd Degree Murder charges if it wasn't a) caught on video and b) sparking nationwide protests and riots.
You won't see most of this on the evening news. The revolution won't be televised, as we've always heard, but it is being recorded and tweeted, in real time. Apparently, the police don't care.
At the same time all this is inspiring because these thousands of people facing such police violence aren't backing down. Every major city across the country, as well as several in solidarity around the world, are coming out in higher numbers every night. London. Paris. Boston. Amsterdam. Portland, ME. Dublin. Houston!!
Thousands of people were out in Portland last night on the 5th consecutive day of protest in my beloved city. This is the Burnside Bridge last night, early in the evening: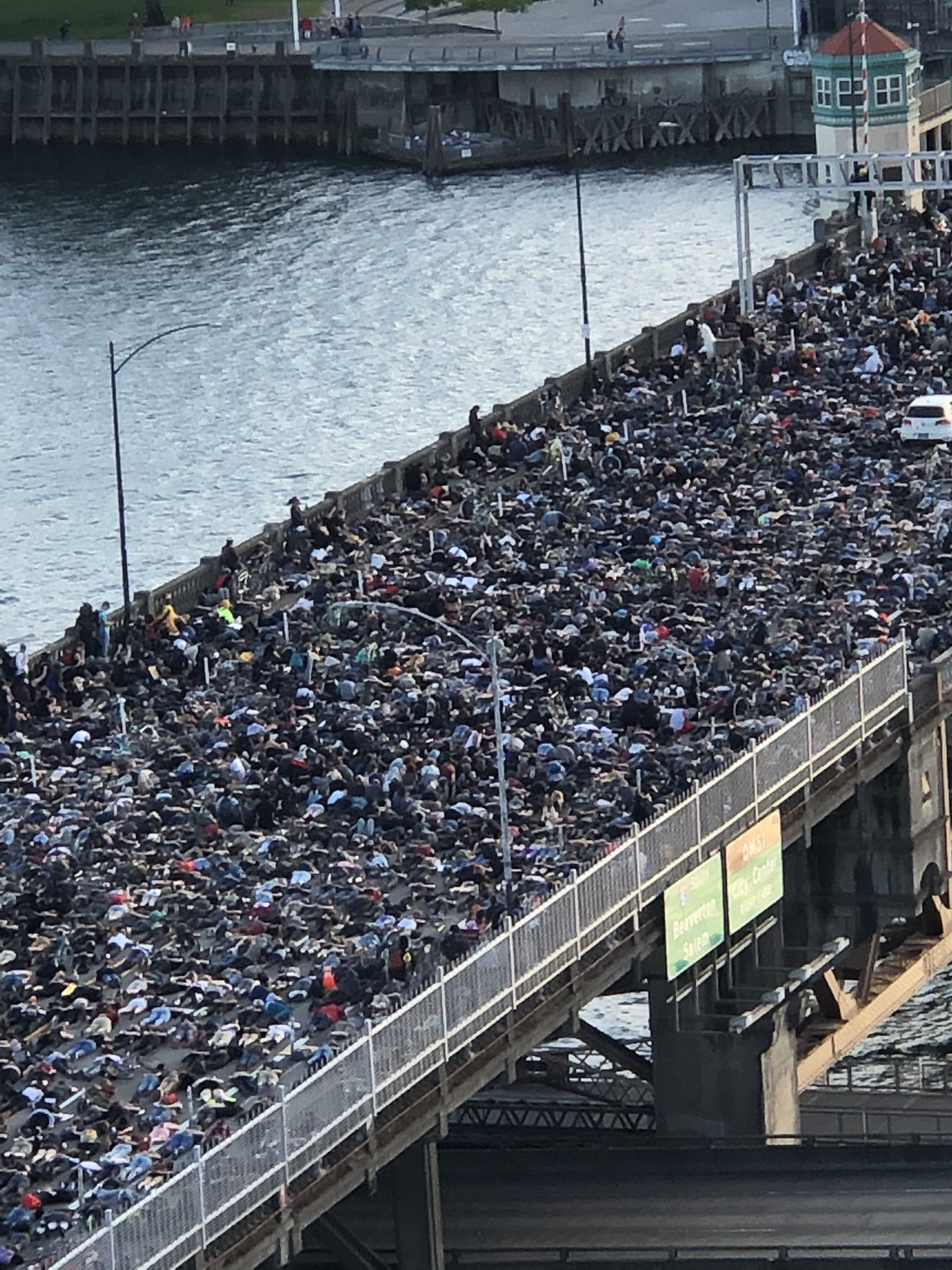 One article said there were 1,000 by 6pm and by 6:30 it had grown by thousands more in Pioneer Square:
Even Cesar the Llama was there! Because, Portland.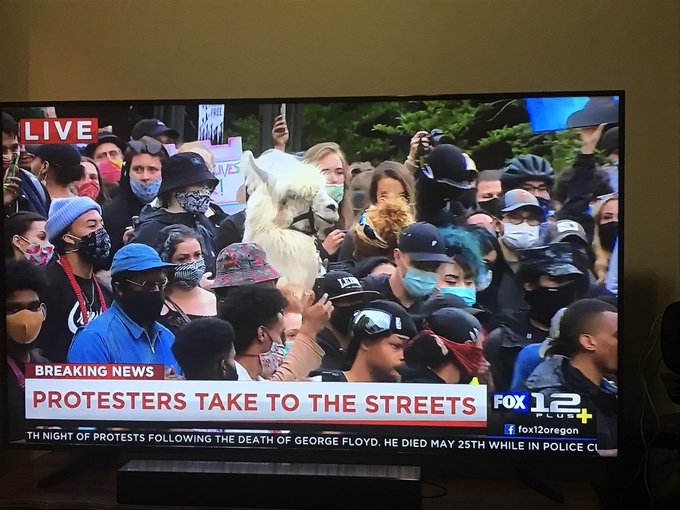 It was peaceful until the police started shooting flash bangs and tear gas into the crowds. Apparently pepper spray, too. Police claim protesters started throwing water bottles, but it was only after the police had started gassing and shooting them with rubber bullets. Apparently, two hours of it.
Recap of June 2, 2020 protest by the Portland Mercury.
This is the most disturbing image I saw yesterday. It looks like a screenshot of a dystopian film or a police state, in front of the Lincoln Memorial, ironically. (Source)