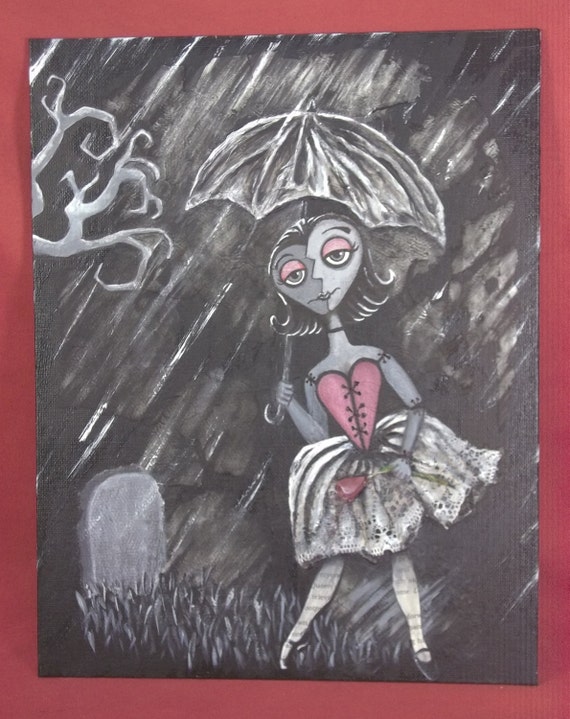 "Danser Sur Ta Tombe"
Original Painting
Acrylic & Mixed Media on Canvas Board
by Christine Rose
Daphne was in deeply love, but her lover was just very good at pretending to be, which afforded him the opportunity to delight in her destruction, piece by piece. Heart, mind, body, and soul. Then, discarded her.
After a long, painful time of putting herself back together, piece by piece, she realized she was lucky to have gotten away at all. The road to healing was arduous, and she will never be the same again. Never trusting. Never loving. Never again believing. Never again whole.
Forever altered. Forever scarred.
But she survived.
One day she hears of the gruesome death of the man who violated and exploited her so very cruelly. With a single rose, she visits his grave…and dances on it.
"Danser Sur Ta Tombe" is an original acrylic painting/mixed media creation by me, Christine Rose. Her hands and the rose is sculpted with paperclay. Handmade, recycled paper gives texture to the background and makes the tombstone. Lace brings this poor girl's skirt to life. Fun applications of modeling clay creates even more texture, contributing to the 3D effect of the piece. Final touch: paper from floral wire provides that intricate little rose a stem.
This is the first in a series of paintings and sculptures featuring "Daphne."
Original Painting for sale on Etsy. Please share with your networks, friends, and family.